In this post we discuss if the leg extension machine is the cause or cure of knee pain and what you can do to ensure it's the latter.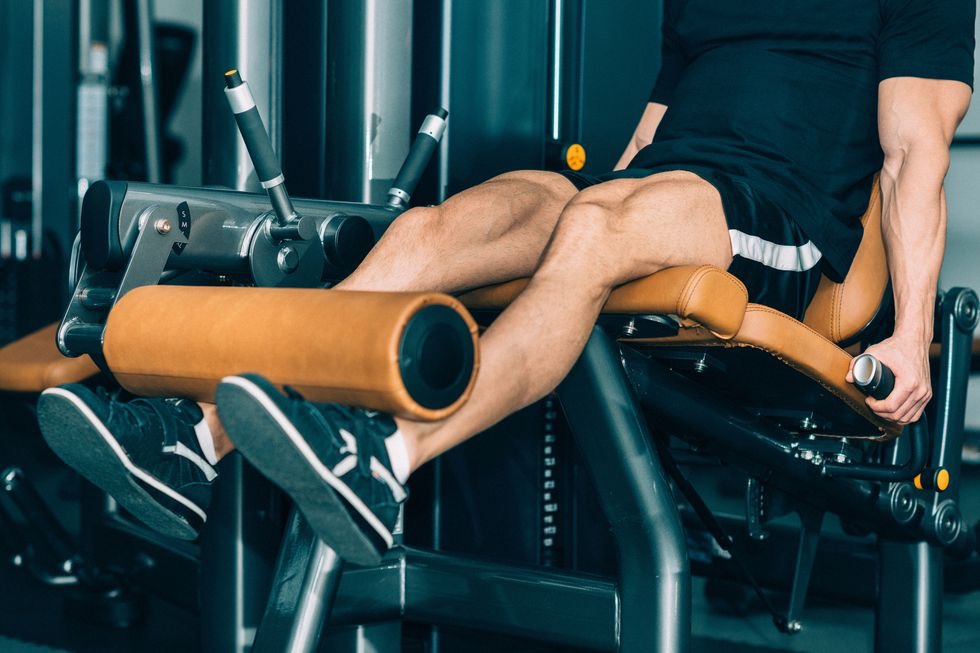 I've written before about the benefits of the leg extension machine. In that post I said that much of what you hear about its potential for damaging knees is nonsense.
There's no doubt however that many of you reading this will have experienced knee pain whilst using a leg extension machine.
Some of these instances will be due to set up errors.
How to set up the leg extension machine
In the video below my colleague George Grose will show you exactly how to set up a leg extension machine so it's perfect for you.
Some issues may arise because of the particular machine you're using however.
If this is the case it will be due to one simple error many machine manufacturers make, they get the resistance profile of the machine wrong.
What is the resistance profile?
The resistance profile is the amount of resistance you have to overcome within each repetition.
You might think that by simply choosing a weight this is taken care of. Unfortunately it's not.
Let me give you an example which illustrates the issues that occur when machine manufacturers get the resistance profile of a machine wrong.
Why the resistance profile matters
I'm currently helping a gentleman recover from knee surgery. He's at the stage where he's looking to compliment our work by joining a gym. Excellent.
One of the most important exercises for him is a leg extension as he needs to isolate his quadricep (thigh) muscles to restore their strength.
On the machine we use at Strength House he's able to fully extend his knee with 5lbs of resistance without any soreness in his knee.
So far he's visited every major gym chain in the City of London and where a version of this machine is available, he's been unable to complete a full repetition on a single one. Even with no extra weight added.
So what's going on?
Within a given range of motion there are positions where the muscles involved are able to produce more and less force. This is known as the strength curve.
On a leg extension machine you'll be able to produce a little less at the start, a bit more in the middle and less at the end of the motion as you straighten your knee.
Machines should be built to take this into consideration. Many aren't.
Below is some research that was carried out on the subject by a tutor of mine, Charlie McMillan.
Note the ideal percentages should be less than 100% at the start, 100% in the mid range position and less than 100% at the end of the range.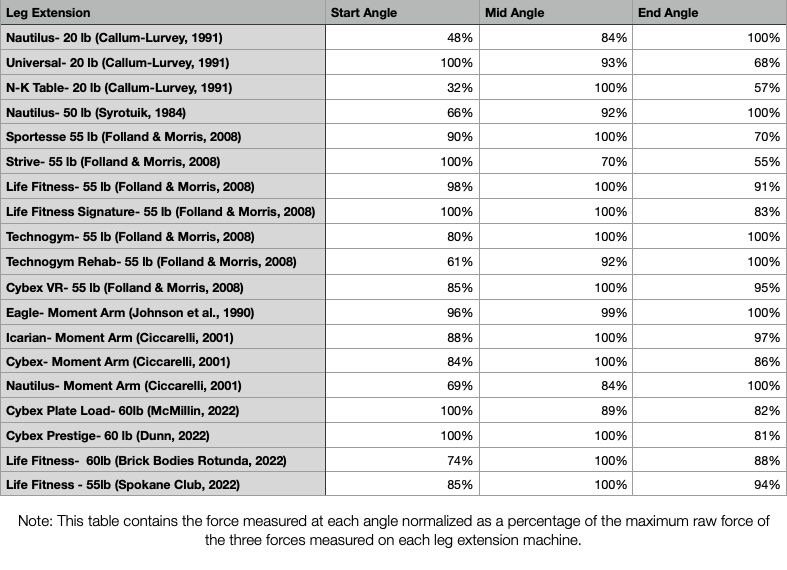 How many of these machines fit this criteria? I count maybe 5 out of the 19. Some even have the direct opposite profile of the one required.
If you have a sensitive knee there's a possibility that 14 of those machines may cause you irritation.
This is a great shame because strengthening your quadricep muscles in isolation will help protect you from knee pain if done right.
How to eliminate knee pain on the leg extension machine
So what can you do to ensure the machine you use doesn't cause your knees problems?
The one variable you can easily adjust is the weight you use. I don't mean simply lower the weight. I mean lower the weight in the part of the range it feels too challenging.
This will most likely have you completing the exercise in two parts. The first 50% of the range with a higher weight. The second 50% with a lower weight.
What if there isn't a low enough weight?
In the example I gave above with the gentleman recovering from knee surgery, there wasn't a low enough weight he could use.
In these cases it's best to forget about movement entirely and simply use the machine for isometrics. This post will explain how to do this.
Summary
The leg extension machine is one of the most valuable pieces of equipment in any gym.
Due to set up errors and in some cases the machine itself, it can cause knee irritation.
Use the information in this post to find a way to use it that works for you.