In this post we look at how to improve knee Osteoarthritis even if you've been told you'll eventually need surgery.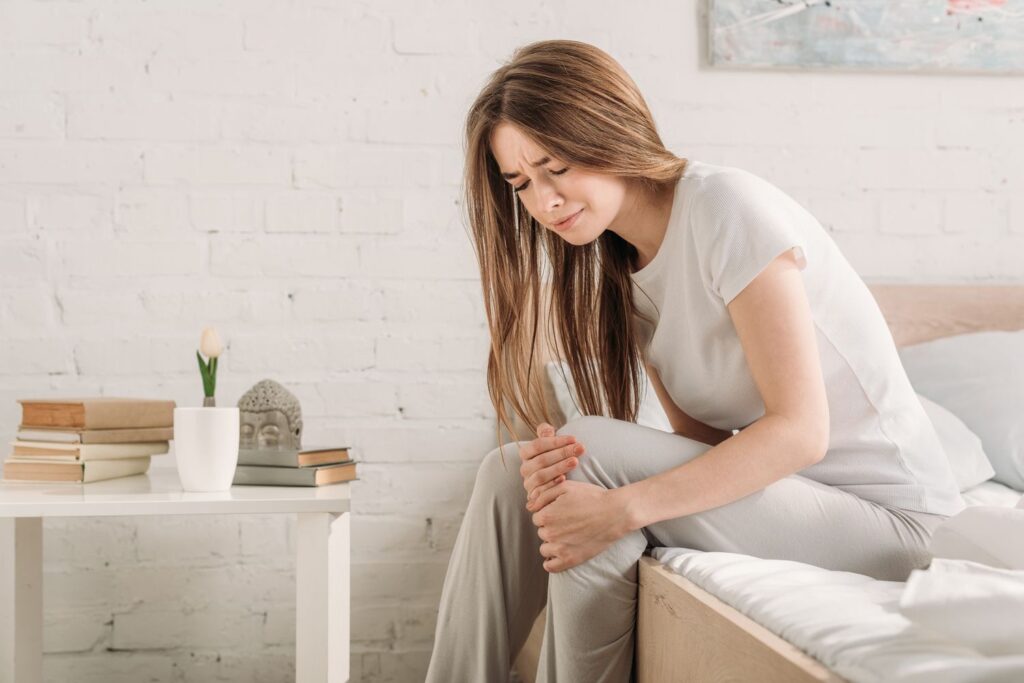 Let's start with a quick story that will show you how you can enjoy an active life even with relatively advanced knee Osteoarthritis (OA).
Lorenza's knee Osteoarthritis story
Lorenza came to me with pain in both knees. She was in her mid 50s and had injured her anterior cruciate ligament (ACL) in her youth. It wasn't her 'bad knee' that was giving her the most pain however, but rather the 'good one.'
After an assessment and a couple of sessions it became clear she would benefit from a scan and more information about exactly what was going on in her knees. I sent her over to my trusted source on these matters Mr Ian McDermott.
After looking at her scans Ian was clear, Lorenza had OA in both knees and would most likely require both to be replaced in the future.
So now we knew. Regardless, we got to work.
Fast forward 6 months and after some careful resistance training and education on OA, Lorenza is largely pain free.
She lives an active life and is able to do everything she feared she might no longer be able to. Top of that list? Playing the drums. Excellent
Let's begin by busting some common myths around OA that may impair your progress if you believe them.
Old beliefs around Osteoarthritis
Here are some common beliefs around knee Osteoarthritis that research now suggests may not be accurate.
Osteoarthritis is a disease of wear and tear
This has you thinking about your joints like car parts which is both inaccurate and unhelpful. People with this thought naturally draw the conclusion that if something is worn out, how does more activity help? It helps because you're a living organism that can adapt. Not a car.
You have bone on bone contact in your knee
'Bone on bone' is a common phrase that's used by health care professionals. It leads to an inaccurate picture of what's actually going on in your knee.
Even if you've been told your knee is 'bone on bone' there is usually some space in the joint otherwise you wouldn't be able to move it.
Also remember your knee is encased in something called synovial fluid. This has been likened to teflon. So even if the cartilage is worn away in some parts, your knee remains extremely well lubricated.
Clicking and popping is damaging the joint further
Noise from your knees is perfectly normal and doesn't mean you're damaging them each time you hear a pop or a click. You may even find that with appropriate exercise these sounds start to reduce. This isn't necessary for you to feel better however.
Osteoarthritis is always painful
There is a poor correlation between what you see on a scan and what you feel in chronic diseases like OA. Around 50% of people who have scans which identify OA have no pain. It's also important to realise that your scan doesn't have to change for your pain to reduce.
New view on Osteoarthritis
As our understanding of Osteoarthritis improves it provides new ways to reduce pain and promote healthier, more active lives.
Osteoarthritis is not just a disease of the cartilage
Osteoarthritis is a broader issue than first thought and not just about joint cartilage. Whilst its effects are usually discussed in terms of cartilage loss, it's more accurate to think of OA as related to processes in the whole body.
This is great news because it means that targeting things like chronic inflammation can have a positive impact.
Osteoarthritis is not caused by overuse
The fact that some studies have found runners are less likely to suffer with OA as they age and younger obese people are at an increased risk, suggests that OA is not an overuse issue.
Whilst it's true that every pound of fat loss has a positive effect on OA symptoms, this may not be due to a reduction of load on the knee as first thought. But rather a reduction in the inflammatory processes that excess body fat contributes to.
The fact that obese individuals are more likely to suffer with OA at non load bearing joints such as those of the hand seems to support this. More on this in a moment.
Progress of Osteoarthritis is modifiable
Following your diagnosis you may be feeling like there's little hope of improvement and that a joint replacement is inevitable. This isn't surprising.
A recent study found that many GPs and physiotherapists perceived OA to be a low priority 'wear-and-tear' disease with expected progression of symptoms and joint replacement surgery inevitable. The same study also found clinicians appeared to lack knowledge about and interest in physical activity and exercise therapy in the management of knee and hip OA.
These beliefs will obviously lead to inaccurate information being given to patients like yourself.
Exercise to improve knee Osteoarthritis
Exercise can help with many things related to OA. These include reducing inflammation, improving body composition and function, reducing pain and restoring trust in your knee.
But your knee hurts. I get it.
Don't worry, there's always something you can do to make improvements.
Studies show the muscles that bend and extend the knee are usually weak in people with knee OA. There's some debate as to whether this is a result of OA or if it contributes to it. For our purposes it doesn't really matter. Get these muscles stronger and you will feel better.
The tricky bit is finding a starting point that doesn't cause you pain. In my experience this is much easier to do in a gym.
Whilst visiting a gym might seem like the last place you would go with a sore knee, resistance training done right will have a profound effect.
Fortunately for you the muscles that bend and straighten the knee are relatively easy to target with the right equipment.
Top of your list should be a leg extension machine to strengthen your quadricep muscles.
Research shows having bigger quadricep muscles reduces the chance of people requiring knee replacement surgery.
I would also train the muscles that bend your knee, move your hips and also those around your ankle.
Think of your knee as untrained rather than injured and you will have a more useful picture of the situation.
Your job is to find a weight and a range of motion you can comfortably move through without creating pain.
Remember that loading your knee is required to keep the cartilage healthy and if you use pain as your guide and start easy, you won't make things worse.
Reduce systemic inflammation to improve knee Osteoarthritis
What is inflammation?
Inflammation is your body's way of protecting and healing you. There are two types of inflammation, local and systemic. Local inflammation is what happens when you see redness and swelling around your knee if you bump it. This is your body making repairs.
Systemic or chronic inflammation is body wide and can cause issues if it stays elevated for too long. It's this form of inflammation that's associated with OA.
Educate yourself on Osteoarthritis
Just reading this post has the potential to reduce inflammation. Hard to believe but it's true.
Reconceptualising what's actually going on in your knee and the reasons for it will help you feel better. Remember inflammation is there to protect you. If you have in your mind the inaccurate concepts that health care professionals can unintentionally place there, these can be inflammatory in themselves.
Update your knowledge and your knee will thank you for it.
Get your exercise right
Doing too much exercise can lead to chronic inflammation as your body doesn't have enough time to recover and repair. Likewise not enough exercise can have a negative impact. There's a sweet spot you should aim for.
Listen to your body and over time you'll be able to do more with less pain. Strengthening the muscles that surround your knee will help increase the tolerance of the joint and hasten this process.
Lose body fat
You may have been told that losing weight will help your knee feel better. Whist studies have shown that weight loss results in a reduction in the forces at your knee, this isn't the whole picture.
Excess body fat is in itself inflammatory. Fat stores release molecules into the system that are pro inflammatory and which can lead to OA. Studies in rats have shown that a high fat diet causes systemic inflammation and Osteoarthritis.
The authors of that study concluded that increased joint loading was not sufficient to explain the increased incidence of knee OA in the rats, as wheel running (exercise) was actually protective of OA.
The take away here is that losing body fat will help but not for the reasons you may have been told. This is important because reducing pressure on your knees as a reason to lose weight feeds into the narrative that knee OA is primarily about wear and tear. As we've already discussed, it's not.
Thinking this way leads to a reluctance to place more wear and tear on the joint by exercising. I'm not suggesting you buy a hamster wheel but these rats show us that exercising with OA will help.
Eat anti-inflammatory foods
Closely connected to reducing body fat is the fact that some foods are anti-inflammatory. As you can probably guess donuts aren't among them.
This guide from Harvard Health will give you a list of foods that can help fight inflammation.
Sleep well, meet friends, hug a tree
Remember that time you were belly laughing with your friends about some funny incident a few years ago? I bet your knee wasn't hurting then.
Social contact, time spent in nature and good sleep can all reduce inflammation and help you feel better.
Prioritise these things as part of a more general strategy to become a healthier version of yourself.
Summary
An Osteoarthritis diagnosis and the prediction that at some point you'll need a joint replacement can be devastating to hear.
Perhaps more concerning is the thought that Osteoarthritis has an inevitable progression and there's nothing you can do to feel better.
Hopefully I've dispelled that myth.
It's possible, with the right approach, to have many more happy years with your knee.
See this as the starting point and begin to make changes to your mindset, exercise and diet.
Almost everybody can do more with their painful knee than they think. You are probably no exception.