In this post we discuss how to get stronger without getting injured if you're over 60.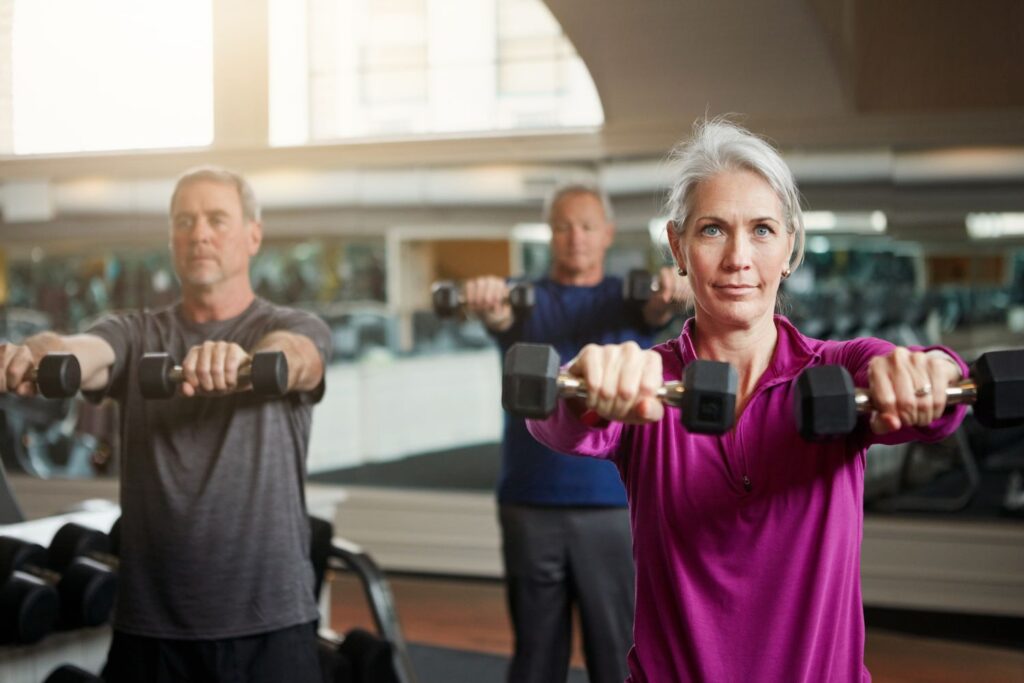 Like most people your age you may have noticed a few changes to your body that you'd like to address. 
Perhaps everyday tasks are becoming more challenging than they used to be. Things like walking up stairs or carrying heavy bags of shopping for example. Tasks you used to be able to complete without a thought now require a little consideration.
As somebody who's always been active you're keen to understand what you can do to make improvements.
You may have read that resistance training can help but you're a little concerned this could also make matters worse.
Whilst you've been to the gym occasionally you've never really followed a resistance training programme and you're not really sure where to start.
This post is written with you in mind.
Note that resistance training and strength training are essentially the same thing and will be used interchangeably throughout this post.
Sarcopenia
The evidence suggests strength training can certainly help you. If you haven't been following a consistent strength training programme you are likely to be suffering from age related loss of strength and muscle. This is called sarcopenia.
Sarcopenia begins as early as the 4th decade of life and if left unchecked can result in the loss of up to 50% of your muscle mass by the time you reach your 8th decade.
Whilst its causes are multifactorial, the treatment is relatively simple, regular resistance training and adequate dietary protein.
Your intuition that this type of training could also have a negative effect is well founded however.
This issue is compounded by the amount of poor advice you will find, even on seemingly reputable websites.
Carrying out a little research for this post I found the following for example:
• You must include movements that closely match your activities of daily living. Not true.
• Stretching should form a major part of your exercise routine and this will prevent you from getting injured. Nonsense.
• Resistance bands and home exercises with things like tins of soup for resistance will suffice. They won't in the long term.
So how can you get stronger without getting injured?
Whilst no two people are the same there are some realities which will both help you get stronger and prevent you from hurting yourself.
Join a gym if possible
When people ask me if they should join a gym, I usually explain it like this; home exercise will work if that's your only option. There's no doubt that in the long term you'll be leaving strength gains on the table however.
Unless you have the finances and space to add commercial gym equipment to your home then any other option isn't quite as good.
For example it's near impossible to provide a meaningful challenge to some muscles in the home environment.
Muscles also require a progressive resistance to get stronger. In a gym you simply select a slightly heavier weight to achieve this. Unless you have a bunch of equipment at home this is difficult to achieve.
There's also the sense of community and support you'll get if you join the right gym. This can be invaluable in keeping you consistent and accountable.
Resistance training machines are safer and more effective
Resistance training machines, or selectorised weight training machines as they are sometimes called, are ideal if you're new to strength training.
You'll find these machines in most gyms. Their advantage is you can set the range of movement you want to work through and you don't have to worry about controlling other joints.
These factors enable you to focus on the muscles you're training whilst feeling secure that the machine will only let you move through a range of motion that's safe. More on that below.
How to set up resistance training machines to avoid injury
There are two crucial aspects to setting up an exercise that both improves its effectiveness and reduces your risk of injury.
On single joint exercises align the joint that's moving as closely as possible to the axis of the machine.
This is sometimes marked to the side of the moving joint.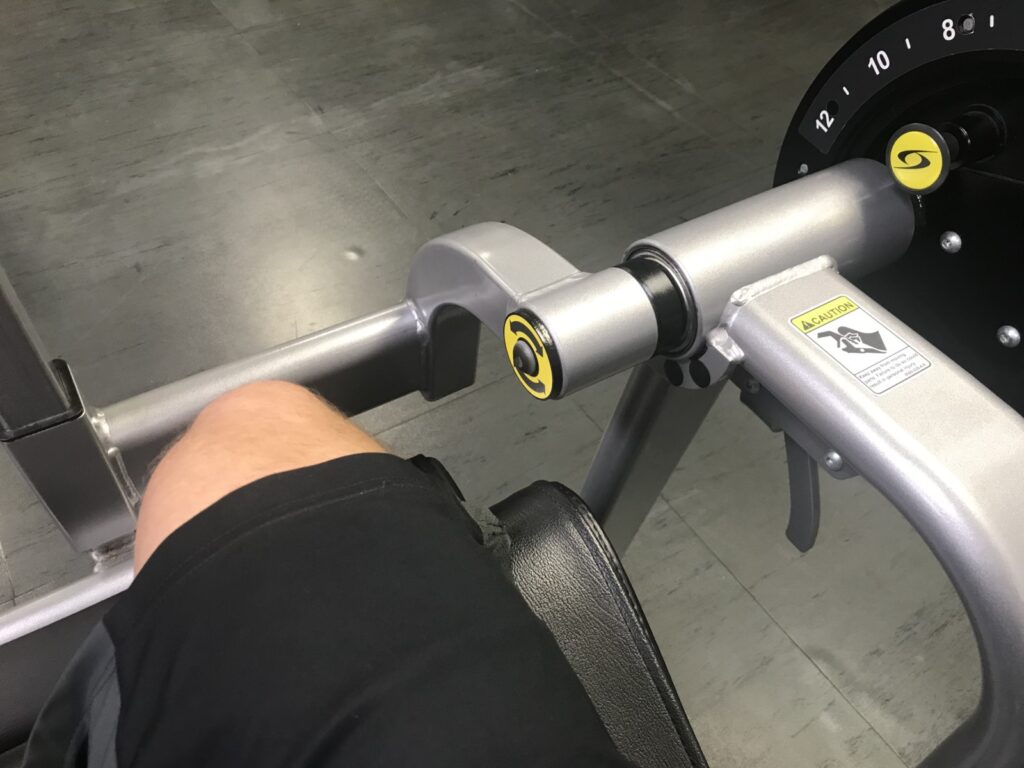 If in doubt look for the point where all the rotation is taking place. 
The second is to make sure the machine doesn't take take you into a range of motion you can't get to under your own volition.
This is easy to check. For example on a chest press machine test how far your elbows can move back before you begin. Set the handles so the machine can't take you further than this during the exercise itself.
Focus on control and muscle contraction
Look around most gyms and you'll see people doing everything they can to distract themselves from what they're actually doing. Whether that's watching TV, playing with their phones or listening to music.
For the best results you should be focusing on the task at hand. Keep the movements slow and controlled and try to feel the muscles that are contracting.
How hard should you be working?
Intensity can be objectively measured by choosing a resistance that's a percentage of your 1 repetition maximum (the most weight you can lift for one repetition).
If you're new to strength training however discovering what your 1 repetition maximum ((1RM) actually is carries risks of its own.
I prefer to use a subjective measurement to begin with by asking clients to grade how difficult an exercise is between 1 and 10, with 10 being extremely challenging.
A good starting point is to stop when the exercise approaches a 6 or 7 out of 10. That will mean you can probably complete another 2 repetitions with good form but no more.
Select a weight that brings about this effect within 8 to 12 repetitions. This is certainly sufficient to produce gains in strength especially when starting out.
Which exercises should you focus on if you're over 60?
The American College of Sports Medicine recommends healthy adults perform 8-10 exercises that target the main muscle groups of the body.
Recent studies have shown that certain muscles seem more prone to age related changes than others however.
Whilst more research is required, it does seem that the quadricep muscles and the muscles which are involved with flexing the hip lose size faster with ageing.
As falls represent more of a danger to longevity in later life, it's also worth focusing on the muscles responsible for preventing them.
These include the muscles of the lower leg and those responsible for the medial and lateral support of the pelvis, namely the hip abductors and adductors.
Don't stretch but monitor range of movement
This might seem like a controversial statement but the evidence suggests stretching isn't necessary. Resistance training will improve range of motion and range of motion is the only metric that stretching can reliably improve.
Study after study has shown stretching will not reduce your risk of injury. In some cases it may actually cause injury.
That's not to say you shouldn't monitor range of motion. If you find you're losing motion that's an indication you're either working too hard or you're missing exercises for key areas.
Focus on muscle contraction to improve range of motion rather than passive approaches like stretching and massage. It's both safer when done well and more effective in the long term.
Recovery time between sessions
The evidence is clear that people over the age of 60 can improve strength and increase muscle mass just as well as their younger counterparts. A particular consideration is recovery time between sessions however.
Some studies show this can be up to 72 hours for older trainees.
This is highly individual however so go with how you feel. Space your training sessions at least 48 hours apart but don't be surprised if you feel like you require more time.
Eat sufficient protein
Lastly sufficient dietary protein is required to both preserve muscle mass and increase it when combined with a resistance training programme.
Recent studies suggest the current recommendation of 0.8g of protein per kg of body weight per day may be too low for optimal health in older adults.
Two studies in particular suggest a range of between 1.0-1.2g of protein per kg of body weight per day is ideal. It may also be more effective to consume protein throughout the day rather than in one substantial evening meal.
Summary
Many of the changes that occur to our bodies as we age can be improved with resistance training and sufficient protein in our diets.
Get more detailed recommendations in our FREE download on the subject. It'll help you both reduce your risk of injury and improve the quality of your life.