In this post we discuss how to choose the right weight for strength training exercises if you're over 40 and explain why the weight may not even be the most important consideration.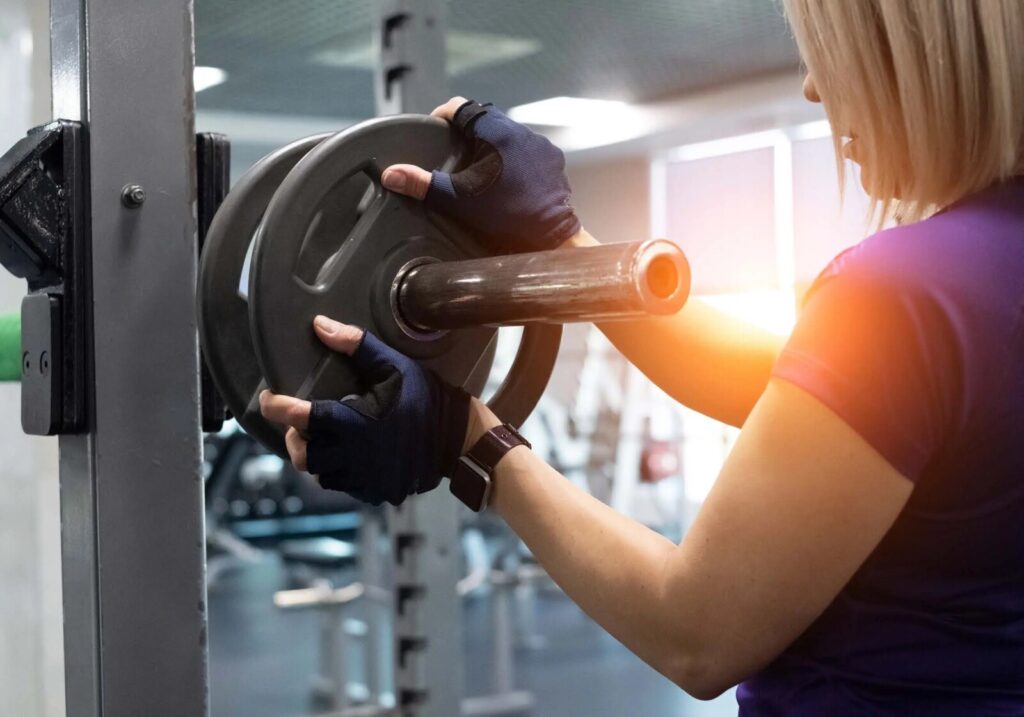 First let me ask you a question.
What does a good training session feel like to you?
It's an important question to ponder because our expectations play a key role in our approach to training.
I remember having a discussion with a trainer some years back who spent the entire conversation bent over my treatment table. When I asked if he was OK he proudly told me he'd done some deadlifts that morning so was unable to stand upright.
This attitude is not uncommon within the fitness industry.
If you're over 40 then you're probably looking for a more sustainable approach to training. One that will preserve your joints but still lead to gains in strength.
You may also have a few areas of your body that require particular attention. A back that gives you issues now and again, or a shoulder that feels restricted for example.
How you feel after a session is a good indicator of whether that session was pitched at the right level. Particularly in those more sensitive areas.
Here's how I like to feel after a training session:
• Less pain than when I started if this was an issue beforehand
• Moving more freely with fewer restrictions
• A sense of being in control of my body
• Standing more upright
• Muscles feeling worked but joints feeling good
• More alert, calm and positive
To achieve this choosing the right weight is important but not the only factor. In fact if you get the following right the weight will choose itself.
Active range of motion
Make sure the exercise takes place in a range of motion your muscles have control of. In other words don't let the resistance take your joints into a position you couldn't achieve without it.
Check how much motion you have available before the exercise and note where you stop. Don't let the weight take you further than this during the exercise itself.
Control
You should be able to stop the weight in an instant if asked to do so. This demonstrates you are in control.
Note control doesn't just apply to the joints that are moving but also the ones that shouldn't be. If for some reason you are unable to do this, stop.
Focus
What are you thinking about right now? I love asking clients this question mid way through a set. My favourite answer so far? Bridgette Bardot. I have a huge amount of respect for BB but she won't help you perform an exercise with skill and control.
You need to stay present.
Think about what you're feeling and where you're feeling it. All the sensation should be in your muscles and not your joints.
Slow repetition speed
Move between the start and stop points slowly. Take extra care as you approach either end of the range. This is where you are most likely to stress the structures of your joints.
Now choose the right weight
If you apply everything I've mentioned so far you're much less likely to choose the wrong weight.
Even so it's worth starting every exercise with a light resistance. Forget walking on a treadmill to warm up, begin with the exercise you're going to perform and start easy. This is more effective.
I can't tell you how many times I've selected a challenging weight on the first set only to find something hurts. If I reduce the weight, 90% of the time I can go back to the target weight without issues minutes later.
If you're feeling good, ramp up the resistance in a progressive way. Your goal is to get to a stage where it becomes challenging to perform the last repetition, without compromising any of the previous coaching points.
Lastly, how many should you do?
This question is the most asked (which is why I've included it) but is actually the least important.
I don't count repetitions and I keep a loose attachment to the weight being used.
Whilst this kind of admission would get me cancelled on social media, repetitions and weight are probably the least significant part of effective resistance training.
Why?
Because they can change on an hourly basis.
I don't ask everybody I work with what their stress levels are like, how well they slept last night and what they had for breakfast before every session. It would get boring quickly.
How many repetitions you perform and with what weight on a particular day is contingent on many factors. The best way to tell is to start easy and see where you stop.
Summary
Research shows that people can get stronger and build muscle with many different repetition ranges.
Sets and repetitions are an artificial construct that bear little relevance to all but the most high performance goals.
Focus on the things I've already mentioned and you will get much better results.