Take 51 men who have never suffered from shoulder pain and ultrasound their shoulders. What do you think you would find? Perfect shoulders? Not so.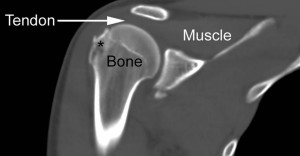 96% of the scans came back with abnormalities that would, in some cases, have led to surgery if the subjects had been complaining of pain. These included subacromial-subdeltoid bursa thickening in 78%, acromioclavicular joint osteoarthritis in 65% and subscapularis tendonosis in 25% to name a few.
What's the moral of the story?
The majority of us have abnormalities throughout our bodies that are not necessarily linked to any pain we may be feeling. If you are over 40 or have been particularly active then a scan will certainly find something. Whether that something is the cause of your pain, or surgery will improve the situation is another matter.
Seek conservative management strategies first. Surgery should be the absolute last option once all else has failed.