This is a question I had from a new client this morning. The quick answer is yes but it's worth discussing a few of the many variables involved and why simply stretching the front of your chest, as he was advised to do, may not work.
Described in most physiotherapy texts books as Upper Crossed Syndrome, which makes it sound like something very serious indeed (it's not), there's an assumption based on what the posture looks like, that certain muscles are weak and others are tight.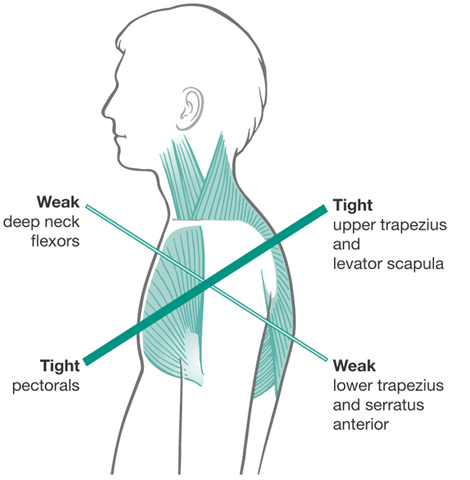 The first thing to say is that when somebody walks into the gym looking like the diagram above, I have absolutely no idea what's causing it.
The idea that certain muscles are tight and others are weak is a guess based on the position of the joints.
The only way to tell which muscles are actually weak is to test and using Muscle Activation Techniques (MAT) this is what we do.
When you start testing you find interesting things that sometimes agree with the assumptions in the textbooks and sometimes don't.
The position of your shoulders could be caused by weakness anywhere from your foot to your neck. It could even be the fact that you've had a bad day, or that you're cold, or that you were tall for your age at some point.
The list of possible causes is endless.
As a resistance training specialist, I can only really affect one of those factors, weakness in the muscular system. If that's what's causing your shoulders to be held in a forward position, then the answer to the question is yes.